Islamabad, 26 July 2023_AICS Islamabad Head of Office Mr. Francesco Zatta paid a courtesy visit to the National University of Technology (NUTECH). Welcomed by the Rector, Gen. Moazzam Ejaz and the Dean, Dr. Almas Anjum, Mr. Zatta listened to a presentation of the various departments and activities of the public sector University, offering academic courses and qualified professional training. The university is striving to guarantee its students internationally accredited programs and skills.
Illustrating AICS Islamabad's vision and ongoing projects, Mr. Zatta acknowledged the role that young people play in a country's human development. He added that investing in young people certainly means investing in the future of a country.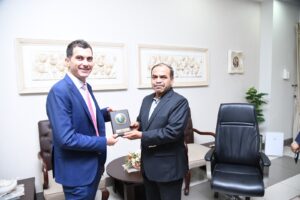 Later, the Director visited the Faculties of Engineering and Computer Science, including the laboratories for skill-training courses. He appreciated the interactive workshops for the training of skills in hospitality, tailoring and design for fashion, and the numerous engineering disciplines.
The visit ended with a note of mutual thanks and acknowledgment by AICS Islamabad on the great importance of technical and vocational education and training (TVET) as one of the promising fields. Certainly, the occasion rendered useful in seeing a quality academic institution that is simultaneously offering university courses as well as TVET courses in Pakistan.