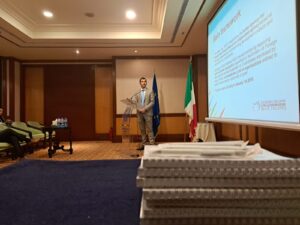 Karachi, September 1st 2023_The seminar was jointly organized in Karachi by the Italian Agency for Development Cooperation, Islamabad and the Consulate of Italy, Karachi. The event was graced by the auspicious presence of His Excellency Ambassador of Italy, Andreas Ferrarese, the Consul General of Italy in Karachi, Danilo Giurdanella and Head of Italian Development Committee, Mr. Aarij Iqbal.
The seminar marked the significant presence of Italian Cooperation in various sectors of Pakistan. Mr. Francesco Zatta, Head of Office of the Italian Agency for Development Cooperation (AICS) Islamabad in his keynote address explained that AICS undertakes several multi-sectoral activities in Pakistan and Afghanistan. The Agency strives to align Italy with its European and global partners in the respective endeavors of development. AICS model complies with the need for more innovative forms of cooperation, involving the methodological flexibility necessary in a continuously evolving scenario.
AICS has many flagships programs and projects in Pakistan that target a holistic set of objectives to create research-education-labour linkages for effective cooperation. In particular, the development cooperation action seeks to improve resilience and adaptation to climate change and alongside foster the preservation of natural and cultural heritage. Due to the ongoing climatic changes and natural disasters, it is ever more imperative to invest in ways that ensure climate change mitigation and adaption.
'Glaciers and Students' is one such unique project that aims at supporting environmental monitoring and natural resource management at the Central Karakorum National Park and the Deosai National Park. Its activities are contributing to improve risk assessment dealing in particular with GLOFs and hydrogeological hazard, thanks to the application of remote sensing, GIS techniques and a dedicated web information system. There is also active engagement of Pakistani universities in the field activities through a rigorous training and capacity building program in the much-needed areas of glaciology monitoring and remote sensing analysis. This shall provide the appropriate tools to ensure long-term research goals and a scientific and transparent data communication mechanism. Environmental projects of AICS in northern Pakistan are also valuable towards safeguarding the livelihoods of the remote communities and work for the preservation of biodiversity and fragile ecosystem.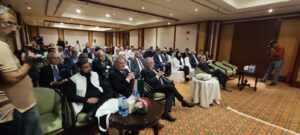 AICS has strong inclination towards female literacy, along with raising awareness on cultural heritage and preservation of natural heritage in Pakistan. For this, two very important projects have been launched. First is a project entitled 'Support to Girls' Right to Education and Safeguarding Cultural Heritage through Education in Pakistan'. This initiative has been carried put in the districts of Swat and Bahawalpur. Its primary aim has been to strengthen government's capacity and quality of education imparted along with enhancing girls' access to schools. The second project is 'OliveCulture'. Olive is a low maintenance and high-yield tree and its cultivation has been quite successful in Pakistan. In this regard, this project is an all-inclusive contribution to Pakistan aimed at the same time to secure nutrition, environmental resilience, female participation and above all, provide a constant stream of primary or complementary income. The project has helped numerous beneficiaries in the alleviation of poverty, achieving technical and vocational training and access to new opportunities of work.
Finally, Mr. Zatta highlighted the Pakistan Italy Debt Swap Agreement that was initiated in January 2009 and to date 48 various impactful projects have been executed under it in multiple districts all over Pakistan. Hence, AICS remains committed to its mission to provide assistance, enhance local capacities and support basic needs in alignment with Pakistan's sustainable development strategy.