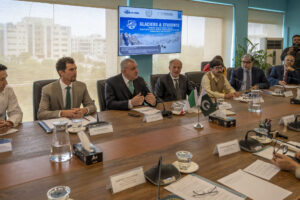 Islamabad, July 18th 2023_A coordination meeting focusing on environment safety was held this morning at Ministry of Climate Change and Environment premises. It aimed at enhancing dialogue and coordination between Italian and Pakistani actors committed for environment protection in Pakistan in the framework of development projects funded by AICS. H. E. Italian Ambassador to Islamabad Andreas Ferrarese and Ministry Mrs. Sherry Rehman leaded the two delegations.
"Glaciers and students" project, implemented by UNDP and Italian association EvK2-CNR, has been described in detail. Through the establishment of 8 AWS – Automatic Weather Systems, Pakistani glaciers mapping activities and vocational training and scientific research in partnership with Italian and Pakistani Universities, this project aims at providing proper tools for a better management of water coming from melting glaciers to local authorities and Pakistani decision-makers, also for touristic enhancement purposes. "This situation requires a full commitment and quick actions" stated Minister Rehman, wishing for a crucial involvement of students and universities in the implementation.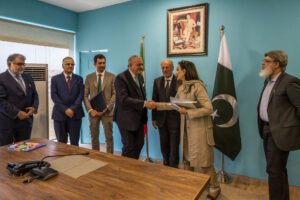 Ambassador Ferrarese highlighted the importance of "Glaciers and Students" specific objectives for Pakistani glaciers management, while AICS Islamabad Head Mr. Francesco Zatta detailed the Italian programme for environment safety in Pakistan, tightly connected with other intervention sectors, in particular rural development.
University of Milan researchers also attended the meeting, as scientific partner of the project, and introduced the audience to the new project "Water 4 Development", currently in preparation phase, aiming at enhancing environment safety in terms of territories protection, fostering agricultural systems and strengthening touristic promotion in the Northern regions.