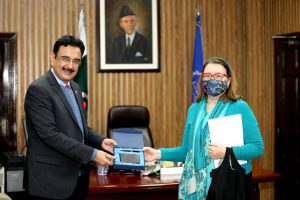 Among the institutions involved in the implementation and preparation of the AICS initiatives there are first of all the central and provincial governments and others institutions: the Economic Affairs Division, our direct interlocutor for the entire cooperation programme and co-partner for the Debt Swap, for innovation and pilot interventions that have paved the way our most significant programs; the Ministry of Climate Change for the development projects dealing with mountain ecosystems; the Ministry of National Food Safety and Research for OliviCulture and related TVET programmes; the Ministry of Overseas Pakistanis and Human Resources Development for the ILO Social Protection Programme; the Ministry of Water Resources for irrigation programs and the Pakistani Council for Research in the field of Water Resources for training sessions; the Ministry of Education, Vocational Training and Heritage for the Unesco Program on girls' education and the Radio Education platform is its spin-off; the Secretary of the National Heritage and Culture Division and the central Director of Archeology and Museums, the Director of Archeology and Museums of the province of Khyber Pakhtunkhwa, the Italian Archaeological Mission in Swat consistently active since its foundation by Giuseppe Tucci in 1955; the Additional Chief Secretaries and the Secretaries of Agriculture of all Provinces; the PPAF - Pakistan Poverty Alleviation Fund, partner for Pakistan Poverty Reduction; the NAVTTC - the National Commission for Technical-Professional Training for the certification of training courses; Quaid-e-Azam, Bahria, Chitral, Malakand, Kech, Swat and Lasbela Universities; the Aga Khan Foundation; the World Bank and the Asian Development Bank; the European Delegation (Team Europe Initiative) and the other member countries; the Resident Coordinator of the United Nations and the UNDP and the Representatives of UNESCO, UNICEF, UNIDO, UNHCR.
Regarding civil society, the Italian NGO currently present in Pakistan is CESVI, now entirely Pakistani; AISPO and ISCOS have submitted their request for registration. The non-profit organisations Cure2Children and Ev-K2-CNR have both participated into in the Debt Swap. The latter, founded by Ardito Desio (the promoter of the first ascent to K2 in 1954) has been promoting scientific and technological research in mountain areas for years, and is partner of our UNDP programs.
Important AICS interlocutors are the Pakistani and Italian universities gathering to set up a network promoting the nexus between research, training and work, encompassing relationships with the public and / or private sector.